I had an old ThinkPad lying around that is in perfect working condition, but all but useless running any modern Linux, and a little sluggish running Windows XP. This is strange, since it's a Pentium 4 M 2GHz with 256MB of RAM and 16MB ATI AGP4x graphics, which should be enough for XP or Linux.
Anyway, I went over to the Lenovo/IBM support site looking to see if perchance there were any driver updates, when I noticed that this particular model (R32 2658) seemed to have full hardware driver support for Windows 98. Had a few hours to spare, so I decided to try and get some retro computing going.
First step was to get installation media. I'm not sure where I stashed my old Win98 CD, but fortunately I made ISO images of all my Windows OS discs and saved the product keys in a handy text file. So I burned a fresh copy of Windows 98, booted it up on the laptop, and I was off to the races. (Flash back to 10+ years ago, this would have been slightly more complex, without fast CD writers and proper BIOS CD-ROM boot support on older machines.) I went through the first stages of the installer, taking great pleasure in selecting EVERY installable option because I could fit it all and more on my massive 10GB partition on the laptop's ridiculously immense 30GB hard drive.
Once that was done, I was greeted with a beautiful 16-colour, 640×480 display, no audio and no network connectivity. Awesome. No problem though, just hop on another computer, download the drivers to a USB drive, then install them on the laptop. Wrong! Good ol' 98 has no USB mass storage support so that's not possible. Thinking back to the turn of the century (yes, TURN OF THE CENTURY. we can say that.) the logical step would have been to bring out the ever-useful-but-hated 3.5″ floppy disk. Oh but wait, our dear late Steven P. Jobs helped start the "Legacy-free PC" trend, which means that none of my computers has a floppy drive. I could burn all the drivers on a CD, but that would be a waste of blank media. Staring at my coffee table in search of inspiration, I noticed a D-Link driver CD-ROM I had been using as a coaster. It was the driver for a Cardbus 10/100 Ethernet card. Perfect. Just connect the Cardbus NIC, install drivers from the CD, then download everything else directly via wired network.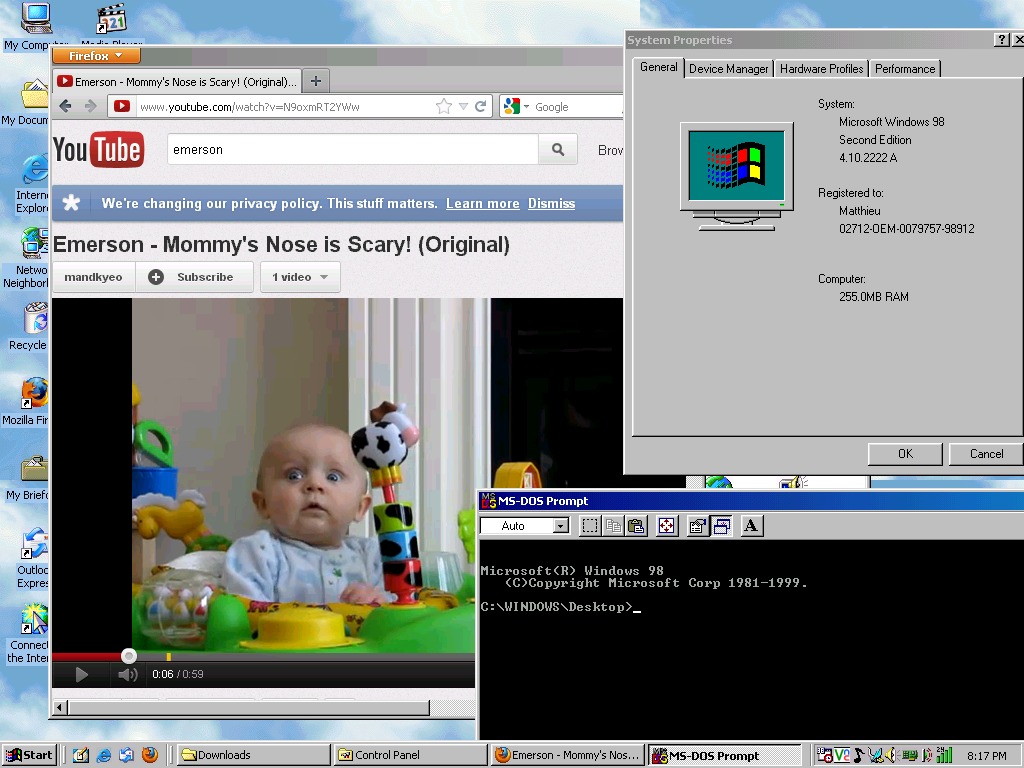 Anyway, I'm too lazy to write the rest of the install process up, and nobody would read it anyway, so here are some links to useful tools and info for running Windows 98  today.
http://thewichitacomputerguy.com/blog/standard-tcpip-port-missing-windows-98
http://www.phoenixnetworks.net/atheros.php
http://support.lenovo.com
http://kernelex.sourceforge.net/
http://exuberant.ms11.net/98sesp.html
http://www.technical-assistance.co.uk/kb/usbmsd98.php
http://www.troubleshooters.com/linux/win9x_samba.htm
Note: Yes, I know, not technically 14 years later, seeing as it's Win98SE.
By