Just quickly threw together a flashable debian-installer image for NSLU2, following the guide from http://cyrius.com/debian/nslu2/repack.html.
Have NOT tested this yet, but technically it should work.
Tested, and works great! installing now. Hopefully it will be done by tomorrow morning.
During the install process, be sure to check off the "SSH Server" option! Otherwise you'll have no way of accessing the slug.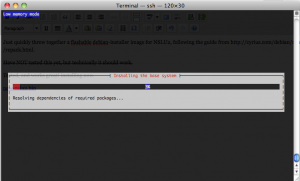 5 Responses to "Debian Squeeze installer for NSLU2"